It is rare to see 12 large format (10 x 8) plate cameras in operation in one place, but this is what was organised by Terry King and Hands-On-Pictures for the Muybridge Re-enactment at Ham Polo Ground (2 October 2004) — an act of 'retro-invention' celebrating the centenery of the Muybridge's death. It was a classic autumn day — blustery, with large masses of high white cloud blowing quickly across a deep blue sky and patches of bright sunlight restlessly shifting here and there across the polo field. The dozen cameras and their enthusiastic operators were ranged in a line, offset from the running track, and huddled under a series of gazebo tents flapping in the wind.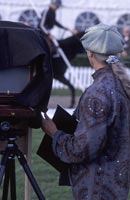 Saffron Branfoot
photographing the
pony as it passes
Today we take for granted that our camera shutters will be quick enough to freeze motion. Most of us have seen Dr Edgerton's photographs of milk drop splashes forming tiny, exploding coronets (1935) and bullets bisecting playing cards (1964), and with modern equipment we can easily freeze Formula 1 cars mid circuit and capture birds in flight. Before the 1870s, though, the movement and nature of some ordinary animals and objects remained a mystery. It was Eadweard Muybridge — a native of Kingston-on-Thames on the edge of London — who in 1877 began to experiment with capturing photographically the motion of a galloping racehorse. He was supported financially by the wealthy Californian railway baron and horse enthusiast Leland Stanford, who wished to settle a bet he had made with friends that the four feet of a running horse would at times all be clear of the ground. Muybridge was able to demonstrate this with his Palo Alto series of horse photographs, produced by a line of cameras not unlike those assembled at the Ham polo field.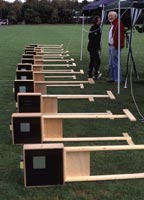 Wooden shutter boxes on the
polo pitch before the plate
cameras arrive
In order to record the progressive movements of a horse, each plate camera at Ham had its lens pointed into a guillotine shutter box mounted on a tall wooden frame. The 'guillotines' were made of aluminium sheets and sported rubber band trigger mechanisms. Previous trials had shown, though, that the clatter of these drop shutters scared the horses passing them, spoiling the smooth running gait. So the shutters were dampened with Safeway foam scouring pads — the type used for washing dishes. The set-up seemed wonderfully Heath Robinson: crazy looking mechanics, cleverly thought out. A series of strings ran from the shutter mechanisms of each camera across the lawn towards the running track edge, adding to the illusion of strange grand design.


The guillotine shutter is set
The original idea had been for a polo pony to run through the assembly of trigger cords and set off each camera in turn, to capture a series of unique images of the horse in motion. But Ham ponies balk at such webs of string in their path, apparently because they too closely resemble their experiences of electric fencing! Terry King, Chairman of the Royal Photographic Society's Historical Group, talked the crowd of spectators through some of the various developments in preparing the re-enactment, and it quickly became clear that a variety of other technical challenges still face anyone attempting this type of photographic recreation even some 127 years after Muybridge.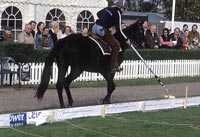 Jo Baum and her mount, 'Blue', trip
the trackside shutter triggers
Jo Baum arrived mounted on her polo pony bearing a device vaguely resembling a jousting lance. In fact it was a very-long-handled paint roller. The strings linking the camera shutters, originally stretched across the track, were now connected to a series of articulated trigger posts fastened to a low rail alongside the track. As Jo and her pony charged forward, the roller was tilted downwards onto the rail and each trigger post was mowed down in succession. As each post fell a string was tugged, a shutter was released and an image produced. That was the theory. After a few trial runs, the bank of photographers formally prepared their shutters, shouted out their apertures, focussed their ground glass plates, applied elastic mechanisms, inserted dark slides and removed shutter safety pins.

The winds had continued to be fierce all day. The flapping canvas sheet of one gazebo had ripped free and upset a titanic camera on a heavy Gitzo tripod, so the temporary tent structures were taken down. This exposed the great line of Gandolfis and Wistas and Bombay replicas to the late afternoon sun, and it was a beautiful sight to see the brass fittings and warm rosewood casings of these big cameras gleaming in the light.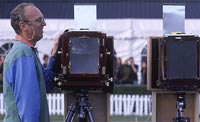 A pair of 10x8 plate cameras at the ready
Finally the first of two camera-live events was run. All triggers released in succession and a tremendous cheer went up from the crowd as Jo and her pony were hailed as heroes. The photographers switched plates and again prepared their cameras. Hurrah! The second live run went smoothly — horse, rider and jousting roller working their way down the line of triggers, metal shutters dropping one after the other, images of horse and hooves exposed to film. The process ran like a weird, wonderful, well-tuned machine.

All four feet off the ground? Yes, the process was successfully retro-invented!

Jim Batty
jimbatty.com image library

Text and photographs copyright © 2005 by Jim Batty. All rights reserved.
No part of this work may be reproduced, stored in a retrieval system, or transmitted, in whole or in part, in any form or by any means, without signed written permission from the author. A standard publishing fee is payable in advance for any editorial or commercial use.