In early June my travelling companion and I fled London for nine days for that French outpost of Normandy. Still bleary-eyed, return tickets to Dieppe in hand, we wandered around Victoria Station Saturday morning awaiting the 08.25 departure to Newhaven. I marvelled at how bright, cheerful and expansive the place looked. For how many millions of overseas travellers was the once grotty and depressing Victoria Station their intoduction to the great city of London.
Aboard the good Stenna ship Londoner, we breathed the spray blown air and watched the chalk cliffs of the Seven Sisters – an abrupt and unforgiving frontier – disappear behind us. Bands of school children roamed the decks intent on destruction, fascinated and not in the least disappointed in finding everything constructed of welded steel. Inside, passengers celebrated the departure with duty free cartons of cigarettes and drinks and bingo in the lounge. This was great: we'd barely left the shores of England and already felt utter strangers.
I love the approach by ferry to Dieppe – chalk cliffs, similar to those we'd left behind four hours earlier, dramatically inferring the land bridge that must have once connected the two. A needle-spired fisherman's church sits high up on the bluff overlooking Dieppe. It's full of wall memorials, many bearing ceramic photo-plates of young men who had 'disparu en la mer'.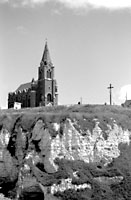 Fisheman's church above chalk cliff, Dieppe
Dieppe's huge Saturday Market was in full progress when we arrived. After ogling the huge arrays of shell fish and evaluating three dozen restaurant menus (mostly 3-course dinners with starter plates piled high with crustaceans), we plumped for a baguette, a strong and creamy Pont Lévêque cheese (local and Camembert-like) and some Tomme de Savoie, and climbed up southwards out of town towards the Camping Municipal. It was a small, pleasant site with modern subterranean toilet blocks installed in concrete bunkers built by the Germans during their occupation in WWII. If you're walking up there – it's about 2km – there's a leafy chasm short cut to the site: take Cavée de Caude-Côte where the road makes a U-bend around a little park (where we dined on the bread and cheese in the sun). Otherwise a bus winds up from the town centre.
There are some beautifully tall, steeply gabled homes along the Normandy and Brittany coasts and especially pretty are those with bands of coloured tiles amongst the brickwork. Further inland, farmhouses are solid, stout and show that ancient Normandy construction technique of timber framing infilled with brick set at crazy angles.
Using cheese as our guide (it seemed as good excuse as any) we took the SNCF bus up the Béthune River valley to Neufchatel-en-Bray, home of the salty, heart-shaped cheese Neufchatel. It is an ancient route (the cheese itself dates back to 1035), with many of the villages clustered around huge, dominating churches. Although a railway line was marked on our old map, it apparently hasn't been used in decades. This old line might prove to be an interesting hiking route. Some of the old railway stations have been converted into bus stations and ticketing is computer-linked into the national rail network.
We were now having hot, cloudless days and spent a few searing 'siesta' hours under the canopy of a café overlooking Neufchatel's church plaza, watching lazy passers-by and the local lads grazing their souped-up Peugeots, then looking into agricultural implement shop windows.
Another short bus journey brought us to Forges-les-Eaux, a somewhat more gentrified town, which was once known for its thermal drinking waters (the sources now muddied I was informed) and presently renowned for its Grand Casino. An incongruous toy train on wheels, vying for narrow road space with cattle trucks on the edge of town, occasionally brought day-trippers into town from the casino. Despite the gamblers and lorries, there was an air of tranquility to Forges-les-Eaux and a pleasant feeling of time passing slowly.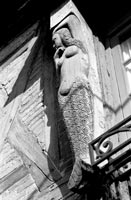 Mermaid carved into beam of Normandy home
Again, there was a short-cut to a small and very pretty campground, called La Minière, through the gates of a fading old Norman grand house on the Dieppe road and down a lonely lane. A couple of minutes walk through tall grasses and we could see the shiny tops of the rental caravans. An extremely energetic and friendly fellowwas looking after the manicured grounds, and each site was marked off with a little hedge sprouting daisies. We pitched our tent on a square of flat lawn, with an ancient stone wall at our backs with wild roses growing out the top of it. I don't think these rural campgrounds see too many walk-in campers.
We devised a plan to follow the unclassified footpath south out of town for a few days, living off the land (i.e. buying more cheeses, saucisson and bread) as we progressed. But, as the campground attendant had predicted, 'une rage' swept in, heralded by monster-sized, puffy-headed clouds riding low over the hills, to pour on our adventure for the next four days. So instead, we rode the train to Rouen and checked into a room of the the two-star Hotel le Cardinal overlooking the cathedral.
I had heard that Rouen was a pleasantly pretty city, but I wasn't prepared for the beauty and sprawling size of the old medieval town within, with its tall timber framed buildings leaning close over cobbled streets. The Big Clock – of ancient design, the size of a house front – is perched over a portal at the centre of the old district, with a huddled sheep carved into the pointer of its hour hand. Much of the old district has been pedestrianised. Just to the east the unusual Rue de Robec is lined with shallow water channels with little bridges over to each shop entrance. There is nothing I enjoy more than wandering around such places late at night, when time can sometimes be suspended, and fade back deep into the past and a sort of romantic heraldic muse. Rouen's old centre is perhaps a little too well lit and safe for such pursuits, but it is still extremely inviting and picturesque.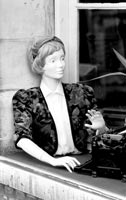 Mannikin typist in
shop window
There is a great selection of restaurants wedged in amongst the crickety old streets and laneways. On our last evening in France, with what little Euro currency was left, it was tempting to try and outdo the Dieppe seafood platter we had eaten. But Rouen is known for its various ways of serving duck and we discovered a compromise: a dozen St Vasque oysters on ice, followed by roast duck under creamy green peppercorn sauce with potato gratin and vegetables. A platter of those cheeses we'd by now become intimate with (having slept with their cellar-based aromas in our tent) was served next. Then a dessert containing three varieties of chocolate mousse. With good Bordeaux, coffees and candle light at an evening table outdoors in one of those narrow wonky streets, the dinner was remarkably inexpensive. I doubt you could get such a dinner at any price outside France.
Sunday morning we climbed up out of old Rouen to the train station and caught the 09.19 back to Dieppe. This allowed us lots of sunny, lazy time for a pair of giant coffees at a workingman's café on the quayside before boarding the ferry back to the Seven Sisters and Big Smoke.
Jim Batty
jimbatty.com image library
A version of this article was first published in Globe (UK; Sept-Oct 1994).
Text and photographs copyright © 199, 2007 by Jim Batty. All rights reserved.
No part of this work may be reproduced, stored in a retrieval system, or transmitted, in whole or in part, in any form or by any means, without signed written permission from the author. A standard publishing fee is payable in advance for any editorial or commercial use.