Our ferry perfunctorily came aside the dock at Syros – a medieval town draped over conical hills and built of gleaming white and pastel cubist architecture. The Naias II let her side hatch down and caused momentary confusion on the harbour front as passengers poured out. Open-topped vegetable trucks and a beat up old van transporting wood panelling quickly scattered them into the town. Then the awaiting crowd surged aboard. The hawsers were man-handled off the bollards and we dragged them off into the Agean.
Tinos was the next port of call. Then famous Mykonos. Young men with sports bags, and women wearing baggy cotton pantaloons, mostly Northern Europeans on holiday, relaxed on the ship's upper deck in the sun and stiff cold wind. The Greeks remained below, reclining in padded seats, within easy reach of the smoky Café-Bar.
Tinos Town
Tinos appeared as a low crescent of white cubes, spotted with black shadowed windows and balconies, spread along the shoreline. Its still harbour was contained by a long seawall and a jetty. Beige, accessible mountains rose immediately out of the town and dwarfed it. Up the shoulders of these mountains ran lines of stone walls, like seams on a worn leather jacket. Horizontal bands of terracing seemed to be stitched across the mountain's dusty flanks. It was mid-October and the harvest had come and gone.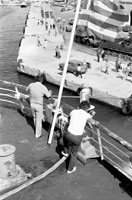 Ferry Naias II coming
into port
Viewed from the harbour, from the upper deck of Naias II, the sparseness of Tinos town (also known as Hora) and the empty main waterfront road were intimidating, especially after the busy whirl and street cries of Athens, where we had boarded. Functional and bleak, Tinos has the character of a shepherd's stone hut – which only gives comfort and inspiration after some acquaintance. But I was pleased and felt intrepid when only two other discernibly foreign travellers disembarked with us. My partner Karen and I would have the place virtually to ourselves.
A stout woman and her bilingual daughter met the ship, alongside two other guesthouse hawkers, and drove us the ninety second journey to their modern home cum hotel and an austere rooftop room. Two sprung cots, a self-catering kitchen and a shower toilet the width of flexed elbows was presented for a decent price, so we settled in. As we could only see about two inches of the Agean through a gap in the blinding white buildings – and the sea is what we had come to stare at – the next day we checked into the Afrodite Hotel. Here a room with two French-windowed balconies overlooking the harbour, pine furniture, reading lamps over the double bed and hot shower (also with sea view) cost us a pittance more. This was actually half the price marked on the official hotelier's sheet behind the door, because three quarters of the place was empty.
Yargo
To begin exploring we ambled along the waterfront. The water was so clear that some of the fishing dinghies in the harbour seemed to be 'flying' above the surface, their shadows detached and cast three feet to one side on the sea bed. We met Yargo up around the western end of town sitting on the rim of an ornamental pond. Yargo was the town's pet pelican and a sort of mascot for the fishmongers and retired fishermen who hang about the tiny fish market opposite the pond. Every now and again one of the old fellows would come over and pet Yargo's narrow head, or jingle his ring of keys over it, so that the bird would twist its neck into impossible knots and wave its bill about like an overzealous fencer. One of Yargo's ancestors, Markos, was pointed out to us: stuffed and given place of honour in the rafters of the fish market overlooking the red snapper.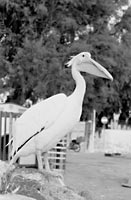 Yargo – You can't keep
a good pelican down
One morning, while we sat eating gargantuan omelettes at a café table facing Tinos's modest 'traffic circle', Yargo came strolling down the quayside road and wobbled across the roundabout in his own unperturbable fashion. All the passing motorcycles (including some beautifully preserved vintage BMWs), cars and old minivans just veered and jostled around him, not giving the pelican a second thought.
As with some of the other Cycladic islands' towns, such as Naxos, parts of Tinos are troglodytic. The houses in the old quarter lean against each other like stacked dice. Driven between and beneath them are passages, tunnels and walkways. Climbing up to the home's entrances are steeply moulded stairways. Every sharp edge, corner or indent in this warren has been rounded and smoothly formed with cement and regularly white-washed or blue-washed with nine foot long paint scrubs. And all is swept clean and kept tidy. Purple bougainvillaea scrambles along walls and tumbles off tiny wooden balconies overlooking the passageways. Powder blue drainpipes ride down the bright white walls. Flowers bloom in olive tins set in doorway niches and green ivy dangles over old, dull motorcycles corroded by the sea air. It's very romantic. Of course it's probably less so inside these houses in winter, as many of them have no heating. You suspect the islanderss live for the very long summers.
Although about half Tinos's restaurants (and shops and hotels) had closed for the winter, we still found a good selection of excellent food in some of the passageway eateries. We would usually choose our fish or veal slab out of a chilled glass cabinet. Our typical main meal of the day consisted in the ubiquitous white bread tossed a basket with cutlery, tszetsike, a plate of olives, a Greek salad, perhaps some aubergine slices battered, and a main dish of fish, moussaka, or whatever else appealed. Such a dinner for two cost about the same as our half-price hotel room. Retsina – Greece's amber yellow wine, its resinous flavour you either love or hate – comes in graded aluminium beakers out of the barrel at give-away prices. As in Athens and many neighbouring islands, Tinos is home to hundreds of feral cats skulking about the alleyways, and we had great fun chucking fried whitebait to those that rushed our outdoor table.
Mule Roads to the Interior
On my Michelin map of Greece, Tinos appeared unique amongst the Cyclades in warranting a little 'three ball pyramid' symbol, which indicates the presence of a remarkable ruin. To get in some good mountain walking and satisfy my curiosity over the 'ruin', I decided to climb up to Exombourgo, the islands second highest peak. Karen opted out of this adventure to explore the old port at Stavros – to track down the ancient Temple of Poseidon (which remained elusive) and befriend stray dogs.
A mule road leads up into the hills from behind The Holy Institution of Lady of the Annunciation. The wide-ish track is paved with chunks of rock and wild marble imbedded in the stony earth and is contained on either side by three to five foot high walls of piled stone, which separates it from the surrounding sloped fields. Tufts of grass, herbs and low scrub spring up between these rough paving slabs in random fashion. They are very little travelled, but you can still meet dusty suited old men, clutching an array of plastic bags, on their way into town. Or, perhaps, their middle-aged son leading a mule loaded with shiny woven sacks from one group of houses to another. Another man will be herding six cows to a higher field. I passed five such men in a full day's walking — there were no women. In fact, except for the hotel proprietoresses, a couple of shopkeepers in Hora and a visiting Athenian in velour mini-dress, women didn't appear to exist on the island. My local map, though, did indicate an number of nunneries dotted across the hills.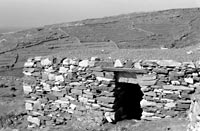 Stone shepherding hut, Tinos
It was from the Convent of Kehrovounio that the nun Pelagia (recently canonized) came. In 1822, inspired by Pelagia's dreams and vision of the Virgin Mary, excavation of a specified site revealed the ruins of a Byzantine church and a dry well. During the foundation stone laying ceremony for a the new church, water began to bubble into the dry well. Later a holy icon was discovered. Even today, in the Chapel of Evreseos within the Holy Institution compound, holy water still issues from the miraculous spring – although, unromantically, it issues from a hot and cold mixer tap.
Further up the mule road I came across tiny, white-washed chapels. They were cubic, simple affairs hung with biblical paintings (some dated early 1800s; some Byzantine in style), Virgin Mary reliefs pressed in metal and olive oil lamps. Built either beside the track, or aloof amongst stony fields, they offered themselves as little, hushed chambers of retreat against the wild winds that were increasing in strength as I gained altitude.
I scrambled up a stone-lined side drainage channel – a sort of donkey B-road – to a gentle saddle between the mountains where two old windmills stood rusting. Their towering stone walls bulbed out at the base, weary with age, and only a spiderweb of sagging tension cables clung to the radiating arms where once sails had stood taut against the elements. When I stood abreast of them on the saddle, a cold Balkan wind, funelled by the two ranges extending northwards, hit me with a fury and tore at my winter coat. What a demonic place for milling.
Exombourgo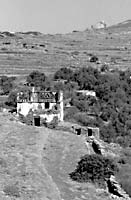 House-sized dovecote on
route to Exombourgo
To the northeast loomed Exombourgo, 1770 feet up on a cusp of rock – the island's ancient citadel, crowned with the remains of a Venetian castle. Between 1207 and 1390 a flag sporting a flag of the Lion of St Mark would have blown up there. On this occasion a communications mast, a rather ugly giant crucifix and a tiny human figure wearing a neon orange parka crowded the peak, laughing at my attempts to climb nearer.
By a steep track to the east and a breach in the crumbling walls, I gained the fortress. (It must be said that you could motor to within a quarter mile of this pinnacle by way of the valley roads and a long church driveway if you weren't dead keen on my 14 mile there-and-back ramble). Caves disappearing into the lumpy terrain within the castle turned out to be stone-vaulted passageways. They lead to ragged patches of sky – portals in the cliff face – beyond which were severe vertical drops to the valley sides below. Ancient stone and mortar constructions seemed to have found root within the castle: what appeared to once be a cavernous water tank and a chamber set precariously on the cliff edge. At this height the winds blew terrifically. In order to take photographs on the north, open face, I was reduced to crawling about on all fours lizard-like through the rubble and pot shards for fear of being blown off.
At the very top, standing at the base of the crucifix, I could see the whole island: villages of clustered white blocks, roads snaking across the mountainsides, the strange rubblescape beyond Volax (possibly volcanic, possibly meteoric) and the ferry, Bari Express, etching a sea trail across the Agean towards Rafina. In the lee of the peak I relaxed over some canteen water and a family bag of potato 'tsips'.
Dark overtook me much faster than I expected on the journey back down. With still a couple of miles left to Tinos town, a full moon rose perfectly over the Mountain of Aeolos and I could see the lights of Saint Pelagia's home village twinkle over me as I stumbled over the moon-shadowed track.

It was by the Bari Express that we too left Tinos Island. The last Tenian we saw was Yargo, blowing out his pouch and beating his wings on the abandoned western jetty as our ship pulled out.
Jim Batty
jimbatty.com image library
A version of this article was first published in Globe (UK; Jan-Feb 1990).
Text and photographs copyright © 1990, 2007 by Jim Batty. All rights reserved.
No part of this work may be reproduced, stored in a retrieval system, or transmitted, in whole or in part, in any form or by any means, without signed written permission from the author. A standard publishing fee is payable in advance for any editorial or commercial use.